FOR SALE
One blue puppy girl, born at the 14th of November
We have one blue girl still available to an approved home. This baby is suited for show and work. Dam (German Youth Champion, Saarlang Youth winnder Hillhaven Journey For Keeps) comes from THE working herding line in the US, the dams sire is one of the top-dogs there (So-Lo's Hard Working Man). The sire (European Youth Winner Wallaby Lucknow Lad HIC) comes from well known european and american lines - he has been imported from the US. He was Best Male at the National Specialty Show in Netherlands, won his class at the American ACDCA National Specialty in Del Mar, California and has sired some very successful dogs. These puppies have all they need to be great companions and goor workers and showdogs. They grow up in the family inside the house. Only one blue girl still available.
German Youth Champion, Saarland Youth Winner Hillhaven Journey For Keeps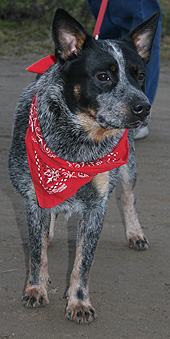 Maddie is fo sale to an approved home and not ready to go before end of January. Home will be checked! She is a spayed nice blue girl,that would do well a a second dog to a male. She is very attached to her people, likes children and is a family pet here. She would be a great prospect as an Agility dog, as she is extremely agile , can jump anything and balance on anything. She is grateful for affection and a calm dog. Not nervous or too energetic. Likes to play ball. Could also be a dog for elderly persons. She can stay alone, is housebroken, well socialized, leash-trained, knows basic commands and is just an adorable little dog. Watchful when outside. Soemtimes she does not like strangers, it depends on the person. She is not aggressive, medium tempered. A real good companion. Knows Restaurants, playgrounds, travels in the car without problems. She is protective at times. When alone and bored she sometimes steals stuffed animals, shoes or clothes and at times chews on them too. But nothing else, only these things. So when they are away, it is safe :). She is a friendly, winderful person that deserves a good forever home. Good place is more important than money. She will be sold far under puppy price. Read more about her at her own site: click "dogs", then "cattledogs" and then on her name (Maddie). There are also many pictures of her there.
Puppies at "of the Lucky Station" - kennels Check out this litter! Sire is a wonderful red Multi-Champion male with the greatest temperament. He has gained some remarkable wins in the past. Dam is a very nice girl that has our old red boy Wallaby Quarrawil Quilpie (deceased) as grandsire. This is a very promising litter. Check them out at: http://www.acd-jill.de





Very nice male available There is one red boy available at "Hawk's Forst" kennel. He is out of very successfull showdogs. Feel free to learn more about him at: http://www.acd-bademstal.de or call: 05624 920408






We have several ACD-things that we would like to sell. If you are interested, please contact us via phone: 06181/73654 or email: webmaster@wallaroo.de

1. ACD cap - new - has never been in use. Price: 8,00 Euro (shipping 2,50 within Germany)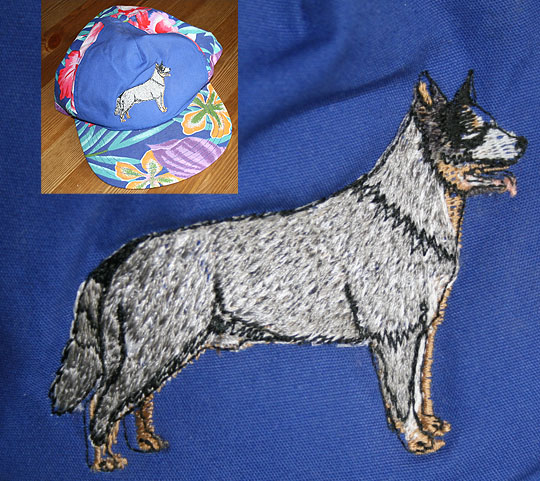 2.
ACD book: The good looking Australian - The Australian Cattle Dog (Connie Redhead)
This book is a "must have". Hand signed by the author. Mint condition, brand new! Price: 19,00 Euro. Shipping Germany: 2,50 Euro.