First of all welcome and thank you for visiting our new site.
Who am I?
My name is Sara Herzlinger and I live with my family and dogs in a rural area close to Frankfurt am Main, Germany. My family is my mother, my partner and our 3 children. At the moment I study at University of Frankfurt and will take my written exams soons. My subjects are History, English, Psychology, "Politikwissenschaften" and "Erziehungswissenschaften". At this time I do some additional research in the area of the use of media at schools and elearning. This is something I enjoy greatly. Once I am a teacher I will take up studying again and will attain my Master of Arts in Educational Media
Another free time activity I love to do is historical Reenactment. This is very pedagogical orientated and we have a lot of fun to travel back in time and reenact the medieval year of 1350. I also practice medieval swordplay and handwork.
How I got involved with dogs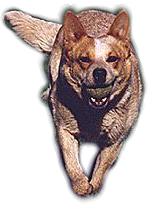 In 1993 I lived in Australia and met the Australian herding dogs. Fascinated by both, the ACD and the Kelpie it was not easy for me to decide on one breed. Finally I bought my first "Blue Heeler", a five weeks old bitch that was born on a working farm. This little girl, called Dusty, influenced me greatly. Through her I got involved with dog sports and the training of dogs. In late 93 I came back home to Germany and got in touch with the few German ACD-people that were in this country at the time. With Dusty I had great success in dog sports. She won 14 working CHAMPION titles along with her normal working titles. She is a special dog and still active and lively. She passed on her extraordinary working skills and quick mind to her offspring. Being such a special dog I bred Dusty to the Australian import Multi-Ch. Landmaster U Show Them How, who was owned by Karin Schmidt. This litter, as well as another litter by Ch.Landmaster Don't Be Cruel whom I imported in '96, was the beginning of my breeding program. My kennel name "Wallaroo" origins in the aboriginal language. A Wallaroo is a small kind of kangaroo. To date I have bred 11 litters with altogether 70 puppies. Many of these puppies were and still are very successful as show dogs, working dogs and most of all beloved family members. You can find information about every dog I have bred on this homepage, including all the health data on all dogs I own, have owned and bred.
I also try to educate myself. I have traveled to the National Specialty of the Australian Cattle Dog Club of America in '99, 2000, 2004 & 2007. Here I learned a lot about the breed. There is also a range of literature that is worthwile to study.
In Germany I introduced the concept of a yearly Specialty Show and organised the first 3 Specialties. Last year I had the honour to organize my 4th show. In the past I also wrote a couple of articles for the ACD Annual and the German ACD-Newsletter.
What I stand for
I do think that the most important thing is the well-being of the dog himself. His well being is my first obligation. This involves thorough health testing, no kennel to live in, strong bonds to humans and good socialization. It is important not to forget that when breeding dogs and striving to breed really good dogs you deal with a living personality that has its own personal needs and character. This raises the question of what a good dog is? At the end it is the personal character of a dog. At least in my eyes. I do think it is important not to loose sight of the being itself when trying to produce show champions and working cracks. I have been blessed and lucky with my foundation dogs. There are many Champions in the show ring and working area who carry my prefix or come from my lines. This makes me extremely proud and shows that I am on the right track. There is also a great obligation I have as a breeder to the buyers of my dogs. Honesty is the most important basis in which to work with puppy buyers. Honesty about a character of a pup, it's future prospects as show, working or family dog, it's personality and it's complete health charta and background.
Thank you…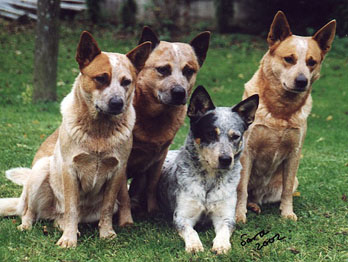 … for taking your time and reading this. You now understand much more about my motives and my person. If you would like to ask me any questions, please feel free to contact me at any time. I am happy to assist you in any question concerning my kennel, my dogs or myself. If you are interested to buy a dog from my kennel don't forget to contact me well ahead the next litter is born. At times there are all puppies of a litter spoken long before they are born, as we do breed on a limited base only. We will have a puppy questionnaire very soon on this page for anyone who is interested in a pup.
Thanks for your time,Sara Herzlinger