German Youth Ch. / Luxembourg Youth Ch. Wallaroo King Under The Mountain
Thorin Oakshield is a dwarven king in J.R.R. Tolkiens masterpiece "The Hobbit". This is where Thorin got his name from. Even with 2 years of age he is the eternal puppy. Always playful, always friendly and happy he is here to challange the world. He loves everyone and is extremely outgoing and friendly. Very willing to please he loves to work.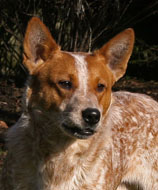 Thorin is a pretty red speckled boy with excellent temperament, a bit more lively than his sister, he likes to play and run. You have to meet him and you will love him. There is not a trace of bad will, dominance or anything mean in him. He is a big, happy furball and easy to handle. Even though he is not as calm as the girls or Lucky, his energy is easy to handle and even the kids can manage him without problems. If you are looking for a goodlooking worker with great temperament and character and of course working abilty, then you have found him. He has a full bredding permission and available as stud to approved bitches.